We are delighted to announce that two of our GMColleges, Oldham College and Hopwood Hall College have been chosen as winners of the esteemed Association of Colleges' Beacon Awards.
The annual Association of Colleges' (AoC) Beacon Awards aim to recognise the best and most innovative practice in colleges across the country. Both colleges were recognised for the initiatives and support put in place to help students to thrive during their time in education. 
Oldham College secured the 'Support for Students' Award for its integration of contextualised safeguarding into daily learner support. This includes a new personal development programme delivered by specialist staff that supports around 2,500 students, plus two flagship projects, 'Safer Streets' and 'Street Doctors' delivered with external partners.
Judges praised Oldham College for viewing learners' challenges through a "cultural lens" of safeguarding. Their dedicated staff were also commended for the proactive support given to young people to help them understand risks and improve their lives, employability and progression into adulthood.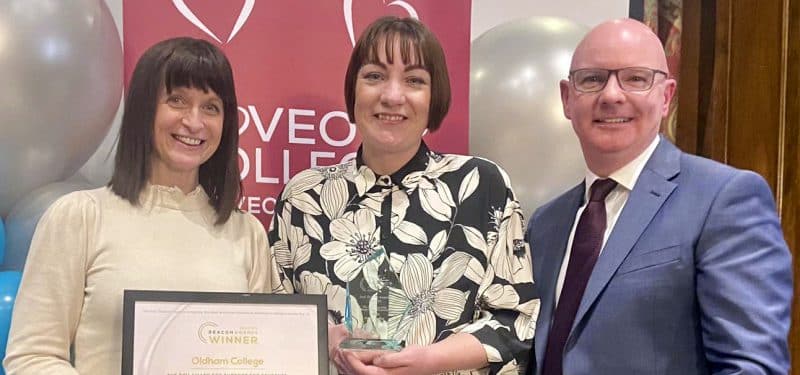 Hopwood Hall College were specially selected to receive the Widening Participation Award, which honoured the team's relentless ambition to ensure everyone has access to life-changing education.
The college was chosen due to implementing several innovative initiatives that have been extremely successful at understanding and removing the obstacles faced when entering Further Education. This includes identifying school leavers and students who have experienced mental health issues and therefore require further support when taking the next steps in their learning journeys. 
The accolade also follows on from the institution becoming a 'Trauma Informed College' and their continuous efforts to champion inclusivity.
As a collective, our nine GMColleges work together to support and address the mental health of staff and learners across the region, to ensure that high quality technical education and skills training is accessible to everyone.